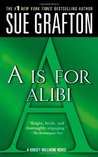 A is for Alibi by Sue Grafton
My rating: 4 of 5 stars
I've actually read these out of order already. I think I read U is for Undertow(?), because this is my mom's favorite series. It's dated in the 1980's, which she relates to, and I quite like, so there's none of this new technology, but it's not so far removed from modern times either.
This is obviously the first book in the alphabet mysteries as they do proceed in order from A to Z, though there is no Z yet. Anyway, introduction over.
This was a good book, I did like reading it. I love crime and mystery novels, and this is a good one, or else there wouldn't be as many in the series. It ties in a cold case from Kinsey's past, an innocent person accused of the recent crime, and a nice little plot twist. Very nice. It wasn't entirely predictable, but Kinsey's intuitions are pretty spot on. It'll be fun to see what B brings.